You can avert an awful experience
Transforming Garages into Functional and Aesthetically Pleasing Spaces: Triangle Pro Painting Raleigh, NC
In Raleigh, North Carolina, where the demand for beautiful and functional spaces continues to rise, Triangle Pro Painting has emerged as a leading specialist in garage painting. Whether it's the interior or exterior of your garage, this dedicated team of experts knows how to turn it into an organized, appealing, and durable space.
Interior Garage Painting:
A garage is often more than just a place to park your car. It can serve as a workshop, storage area, or even an extension of your living space. Triangle Pro Painting recognizes the importance of this versatile space and offers expert interior garage painting services.
Epoxy Flooring: One of their specialties is epoxy garage floor coatings. This durable and attractive solution not only enhances the aesthetics of your garage but also provides a tough, easy-to-clean surface that can withstand the demands of a busy garage.

Custom Color Schemes: The team at Triangle Pro Painting understands that your garage is a reflection of your personal style and needs. They work closely with you to select the perfect color scheme that complements your vision, whether it's a vibrant workshop or a clean and organized storage area.

Organization Solutions: In addition to painting, they can assist in organizing your garage, helping you maximize space and functionality. From wall-mounted shelving to custom cabinetry, they can transform your garage into an organized oasis.

Durability: Triangle Pro Painting uses high-quality paints and coatings that are designed to withstand the wear and tear that garages often endure. Their attention to surface preparation ensures that the paint adheres effectively, providing lasting protection and beauty.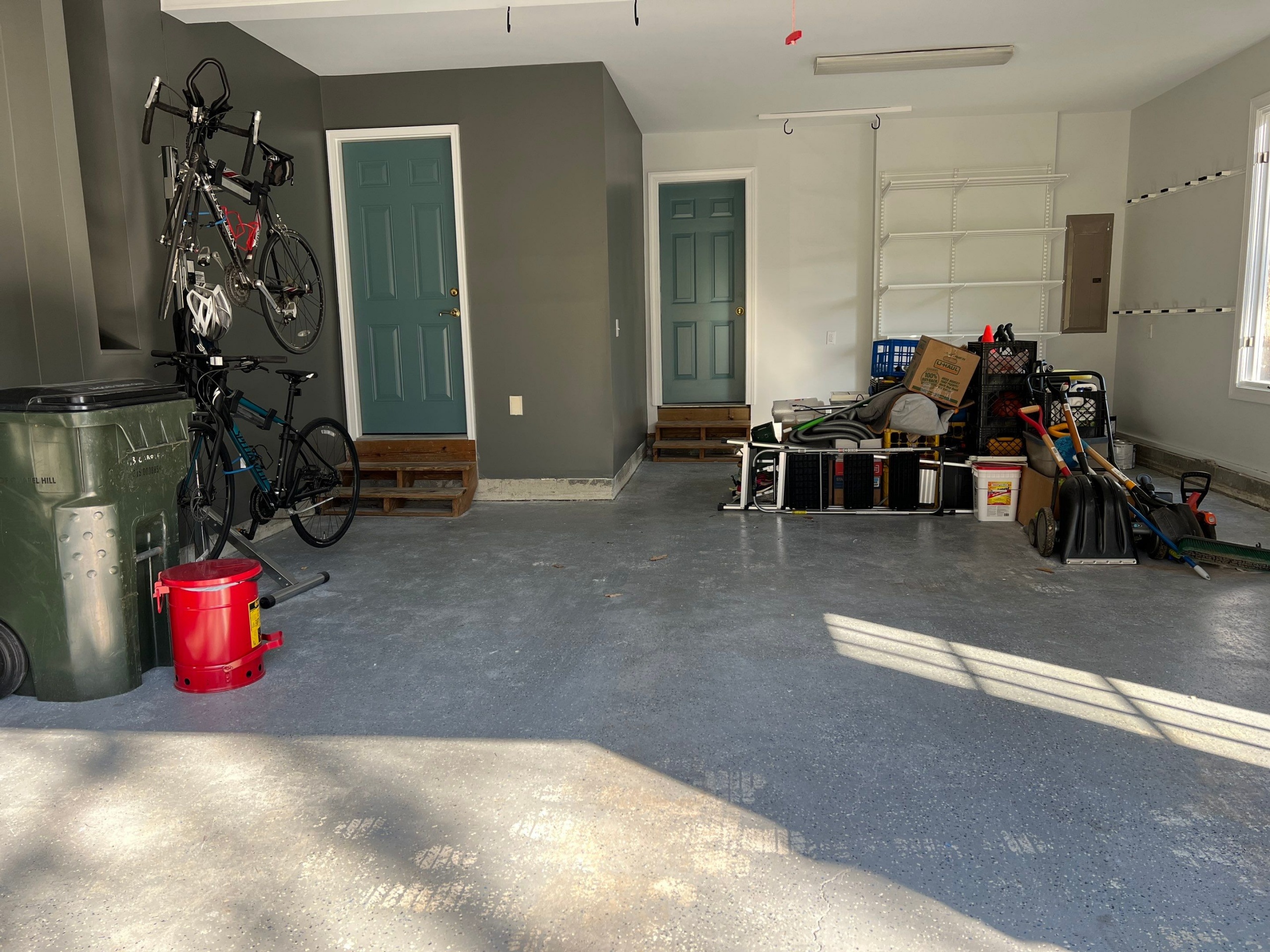 Start my painting project today
Exterior Garage Painting:
The exterior of your garage is just as important as the interior. It not only enhances your home's curb appeal but also protects your garage from the elements.
Surface Preparation: Triangle Pro Painting takes care of any necessary surface preparation, such as power washing and repairs, to ensure that the exterior of your garage is ready to receive a fresh coat of paint.

Weather-Resistant Paint: Raleigh's climate can be harsh, with hot summers and humid conditions. Triangle Pro Painting selects weather-resistant paints and finishes to ensure that your garage's exterior maintains its beauty and protection.

Customized Style: Whether you want your garage to blend seamlessly with your home's exterior or stand out as a unique focal point, they can help you choose the right colors and finishes to achieve your desired look.
Your neighbors are talking about our work