Key Takeaways:
Surface preparation involves crucial steps to make a surface more adhesive for a fresh protective layer of paint.
DIY painters tend to skip many surface prep steps, which is why professional painters are your best option for the job.
Wood surfaces require more diligence to prepare for a fresh coat of paint in residential exteriors.
Triangle Pro Painting is a Cary interior & exterior painting company also serving Raleigh that is your best bet for a surface well prepared.
As a trusted name among local painters in the Raleigh-Cary, NC area, Triangle Pro Painting prides itself on our team of professional painters with exceptional experience & service.
For those of you thinking of skipping the professional do-over to save some bucks, hold your horses on your DIY painting resolve! There is so much that can go wrong in a DIY painting project, so before you can even grab a bucket of paint and a brush from the local hardware store, you need to heed some serious advice from our painters in Raleigh!
What Is Surface Preparation?
Before a professional begins a residential painting project, they must prepare the surfaces to allow the new paint to adhere better. So, the entire process of washing, cleaning, scraping, caulking, patching, and priming, is to induce a fine surface that will result in a flawless paint finish.
It is tougher than painting, and it's among the DIY painting mistakes folks mostly make!
Why Is Surface Prep Important in Residential Painting?
Suppose you have a beautiful wooden deck attached to your residential exteriors, and the paint is faded, cracked, and looks 'lumpy'. Would you paint over that irregular surface, or would you rather have the previous layer removed, the wood sanded & sealed, then primed & painted?
Regardless of your choice, if the surface is not clean, free of oils, and smooth, that paint won't stick. It will start to peel off sooner than expected.
Clean surfaces are crucial to residential painting projects, which is why you need to hire expert painters in Raleigh!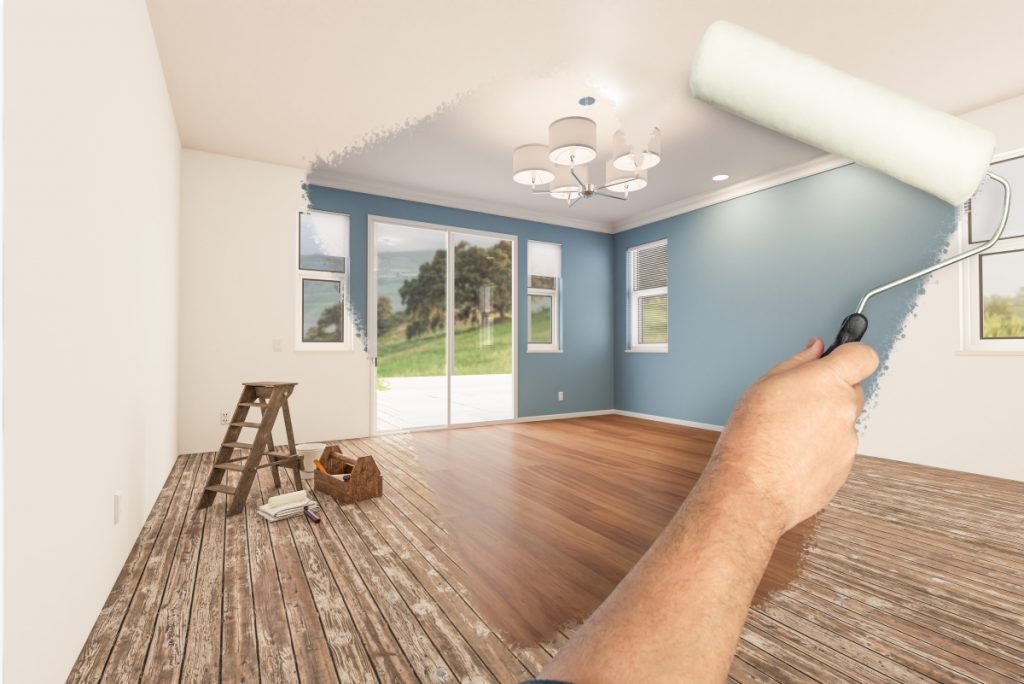 Interior Surface Preparation
If you were to consult with the finest interior painter in Raleigh, NC, then our professional painters would have you know there are some steps to prep your home's interior surfaces for a fresh coat of paint.
Paint Scraping
Many local painters might suggest you use harsh chemicals or tools to remove paint from your residence's interior walls. However, our expert interior painters know the simplest solution is to use a scrapper and get the old paint off the walls that need to be repainted.
That will also help remove any stuck debris off the wall along with the paint. We pretty much follow the same process for wallpaper or textured paint removal.
Repairing Wall Damage
Then the professional painter will ready a batch of plaster or drywall compound to fill any holes made by nailing or damage. Interior painters in Cary usually apply two to three layers of the compound and then smooth it over so that it seems the hole never existed.
Wall Sanding
It may seem like tedious work, but our professional painters know best. Sandpaper of fine grit is used to smooth over the walls to allow for a leveled look.
Wall Cleaning
While some might advise washing your walls, that would be folly if the walls were not allowed to dry or the mold set in. Use a vacuum and brush to sweep off any fine dust or remaining debris off the walls. Any oily contaminant on the wall will deter paint adhesion, so use diluted-mild detergent to clean those spots.
Paper Lining
Sometimes, the wall has too many fine cracks or shows huge, old repairs after it has been freed from the layers of paint. In such a case, use lining paper to cover the surface and provide a smooth base, then go for priming.
Stains Blockers & Primers
A trusted interior painter in Raleigh, NC, will single out any major wall stains and apply a special primer to their surface to stop the stain from bleeding through the new layer of paint. Not all local painters care to mention this step, but we do!
For the rest of the priming, if your residential interior walls are painted with water-based paint, a fresh coat can go right over them. But you must prime the surface if you want to paint over a high-gloss finish or oil-based paint.
Painters Tape
The last bit from the best interior painters in Cary is to use painter's tape to cover the room's trim. It also helps deliver a sharp edge & corners when our local painters are done painting.
Exterior Surface Preparation
As an expert exterior painting company, we know how tough a residential exterior paint job can be. Most of the time goes into the surface preparation.
Identifying The Existing Paint
Lead used to be quite common in old paints, and now we know it is a health hazard, so that is considered. That would decide whether the entire paint job is coming off or not. We prefer removing all existing traces of old paint.
Washing The Surfaces
Be it vinyl or wood, our professional painters will still start with a power wash to get rid of any dirt, streaks, dust & grime to ensure the surface is clean. Then it's allowed to dry up.
Scraping & Repairing
Exterior painters in Cary know best that you need your scrapers angled right to get a clean exterior surface. During this phase, various damages, stains & imperfections might show up that need fill & priming. If a wooden deck needs to be painted, sand and caulk will patch up the cracks. Professional painters also use wood filler to fix weathered wood cracks on the rest of the house.
For damaged vinyl, our expert painters recommend cutting out the damaged part, using a caulking gun to seal the hole, then putting up a replacement siding.
Sanding
Sanders are crucial to achieving that smooth grain on the stripped & repaired wood surface. That ensures the primer & paint will stick to the exterior surface without issues.
Finish the sanding task using a blower to remove any remaining wood dust.
Priming the Surface
The last step is the primer, and there are two of them. A stain-blocker curbs vinyl or wood stains that might likely seep through the exterior painting job. And a primer goes over the whole lot before the paint is applied.
Reasons To Hire Residential Local Painters/Professional Painters in Raleigh-Cary, NC
If you are looking for exterior painters in Cary or painters in Raleigh, you have made the right choice. Local painters know their tools better & understand what paints & primers work best in North Carolina's climate.
Suppose you need interior painters in Cary or are looking for a paint company in Raleigh. In that case, you are making an even smarter decision than going DIY. Professional painters are well versed in understanding the right finish for the right room and how natural or artificial light enhances it.
People tend to make too many mistakes in residential DIY paint projects because they lack experience and forgo their chance of a perfect paint job to save money. You get your money's worth by hiring an adept interior painting company.
Our painters are licensed, trained, & pack a punch of experience and understand local remodeling & reno requirements where a fresh paint job is needed. Your job will be done as smoothly as possible – and it won't strain your bank balance!
The fall is an ideal season for any professional with a brush. Still, only painters in Raleigh best understand how to prepare your residential surfaces so that you have a blemish-free paint coat come the festive season!
Looking For a Reliable Paint Company In Raleigh, NC?
Triangle Pro Painting, a renowned paint company in Raleigh, NC, also serves the residents of Cary, NC, with an armada of exceptional residential interior & exterior painting services.
Feel free to check what other residential painting services we offer. We even do stains, power washing, and kitchen cabinetry, so rest assured that we are the best in the game around North Carolina!
Please secure your free estimates on our services today!